6 REASONS WHY YOU NEED TO READ THIS NEW TRILOGY
THE WARRENSBERG TRILOGY IS A "WILD ROLLER COASTER RIDE"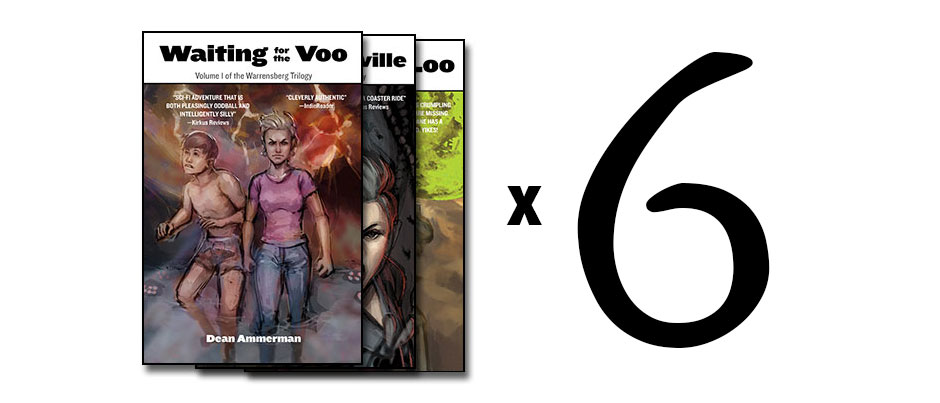 The Warrensberg Trilogy—Waiting for the Voo, Escape from Dorkville, The Last Ma-Loo and Roadkill on the Flipside—is now complete. Here are six reasons why you should read it:
"I now have a greater appreciation of toilets."
IndieReader named "Waiting for the Voo" (Book 1), one of the "Best Indie Books of 2014."
1. Starred Reviews
IPPY Award-winning author Dean Ammerman's Waiting for the Voo (Book 1) earned a five-star review from IndieReader, which called it "cleverly authentic" and named it one of the "Best Indie Books of 2014." Kirkus Reviews gave Escape from Dorkville (Book 2) a starred review for its "wild roller coaster ride," "zany fun" and "memorable storytelling." (And named to Kirkus Reviews' Best Books of 2016.) And what of The Last Ma-Loo (Book 3)? Kirkus Reviews said "the prose is as sparkling and witty as ever," and IndieReader called it: "Funny, weird, delightful; an unforgettably eccentric romp through the multiverse." It's too soon to know what anybody thinks about Roadkill on the Flipside, so you may just have to buy a copy and find out for yourself.
A QUESTION FOR THE AUTHOR
"There are a lot of sad, gloomy, disturbing books out there. Whole categories of them. In fact, if you think about it, almost all fiction and non-fiction is depressing. (With the exception of 'Harold and the Purple Crayon,' of course.) So I decided to write something that was only mildly not uplifting. That was my starting point."
2. Best First Line
Throughout fiction, there are only a handful of classic first lines, including: "Call me Ishmael," "I am an invisible man," and "124 was spiteful." Escape from Dorkville begins: "I now have a greater appreciation of toilets." Move over Melville, Ellison and Morrison! Take that, Marcel Proust and Jane Austen! (Okay, it may not be the best first line, but it's pretty good. Especially if you like toilets.)
3. Action-Packed Otherworldly Excitement
In Waiting for the Voo, Wilkin and Alice Jane battle a spiky Gutrog and the forces of evil inside the Ick. In Escape from Dorkville they visit the Other side of the universe on a quest to save everything and everybody. In The Last Ma-Loo they go to the Underside (via the Crease and the Flow) to search for missing Ma-Loos. And in Roadkill on the Flipside, our heroes need to shut down an out-of-control black hole that threatens to destroy everything and everybody. It's exhausting.
4. Strong Female Character
How strong? As everybody knows, Alice Jane Zelinski (spiky gray hair, eyeball tattoo on the back of her neck, sharp elbows) was the three-time tug-o-war champion of Jackson County, Missouri. In Waiting for the Voo she also tells us, "I've arm wrestled gorillas, thrown a sumo wrestler 20 feet, bench pressed 403 pounds and opened a bottle of Diet Coke with my eyelids." You don't get much stronger than that.
5. Science Fiction! Adventure! Animals! Fun!
The Warrensberg Trilogy is hard to classify. The books are kind of science fiction/fantasy (there's magical things, strange creatures and other worlds). But they're also filled with adventure (attacks by Gutrogs, Wibgees and Spelunking Griniaks!), lovable animals (a puffin named Loretta, a rat named Oscar, a nameless ferret, a pair of ostriches and maybe an alpaca), mystery (Who or what are the Voo? How do you turn on the fresh water? Where do you find the invisible Ma-Loos? How do you shut down a rogue black hole?). Plus, the books are fun. (Seriously.) Wilkin is replaced by a Metazoan Nard. Alice Jane is in search of her inner Chi—along with a good tan, gift shops, doughnuts and drinks with little umbrellas. And dangerous Leeblexes (the Canadian folk music-loving "Desert Piranha") roam the Other side of the universe. And did I mention the maggots?
6. It's a Trilogy
Nobody reads one-off books any more. (Think about the popularity of The Lord of the Rings, Percy Jackson and the Olympians, The Chronicles of Narnia, The Hunger Games and The Bible.) That's why this is a trilogy (plus one) and not just four amazing novels. (Duh.)
Support Your Local Independent Bookstore
You can order any of the books from your local bookstore and buy them from those nice people. (They probably won't have any of them in stock, though. You see, Kabloona doesn't have fancy offices, big expense accounts or a fleet of jets like Random House, Penguin, Simon & Schuster and those other big publishers, so store distribution is a bit thin. But your friendly neighborhood bookstore should be able to order hundreds of copies for you. Thousands, in fact.)

© Copyright 2013 by WebLionMedia. All Rights Reserved.